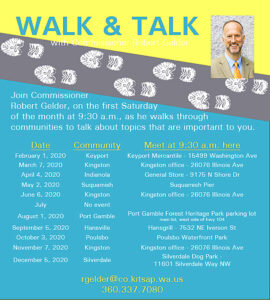 Commissioner Rob Gelder continues his monthly Walk & Talk on the first Saturday of each month.
If you have ideas, compliments, or complaints, or just want to hear what the commissioner has been up to, he would love to chat with you.
Be sure to turn up by 9:15!
Each month is a different location, see the list below.
For more information, contact Commissioner Gelder at (360) 337-7080, rgelder@co.kitsap.wa.us, or click here.
March 7: Commissioner Gelder's Kingston Office
April 4: Indianola Store
May 2: Suquamish Pier
June 6: Commissioner Gelder's Kingston Office
July: NO Event
Aug 1: Port Gamble Forest Heritage Park
Sept 5: Hansgrill in Hansville
Oct 3: Poulsbo Waterfront Park
Nov 7: Commissioner Gelder's Kingston Office
Dec 5: Silverdale Dog Park