2021 Year In Review – Attending to Kitsap County Issues
KEC Attends to County Issues
By Reed Blanchard
North Kitsap Maintenance Facility. KEC has repeatedly brought concerns to the Kitsap County Public Works Department and the County Commissioners about the establishment of the North Kitsap Maintenance Facility near the intersection of Bond Rd and Gunderson. This is a very environmentally sensitive location. The 16-acre parcel has not been logged since the 1930s and is considered a second growth forest. The parcel contains a fish bearing creek, wetlands and is part of the headwaters to Gamble Creek.
Since the Spring of 2020, KEC has been in contact with the County and others regarding this proposed development. We have met onsite with Suquamish Tribe Biologist, Allison O'Sullivan. We have met with County Engineering staff, Commissioner Gelder and attended several project update meetings. We have also been in open dialog with neighbors as we try to understand their concerns.
Throughout this process, KEC has advocated for a larger public involvement, a greater protection of the environment and for an open process.  Here are some excerpts from letters sent to the County:
July 2020:
"We ask that the County: 
-Conduct Public engagement now, before the sale of the property is concluded.  The current proposal to hold public meetings when a 30% design is reached is far too late in the process. A public meeting needs to be held now before the property is purchased.  The public needs to know what other elements are included in the sale of the property.  Installation of a water main has been identified.  What else?  What is to be done with the existing facility on HWY 305?  What sites that may not be openly on the market would meet the specifications for the facility?"
August 2020:
I would like to reiterate our two priority requests:
We are requesting immediate public engagement in the purchase  decision about this property. We are asking for a public meeting with you and other commissioners NOW before the purchase is completed, not after it is done. That is too late for public involvement in this critical decision.
We are deeply concerned that this is an inappropriate place for this facility—at the headwaters to Gamble Creek. We are not talking about complying with rules and regulations. We are asking for compliance with the laws of nature. The current rules and regulations are not sufficient to prevent future problems in a world of climate change. The current rules and regulations were created at a time where there may have been more margin for error (or at least people thought that was the case). That is no longer true. We cannot risk damage to this fragile ecosystem. We also need to keep trees in the ground.
We are asking for a newsiting report, one that considers all potential sites. We are asking that the county check with timber owners for example, who have already clear cut. Given the seriousness of the environmental/climate conditions throughout the state, national, and world we simply cannot continue the practices of endangering water supplies and clearing land whenever it is convenient. Be creative. Look for more possibilities.
October 2020:
To meet these goals, KEC requests the following from Kitsap Public Works:
-Recognition of a Public Advisory Group for this project established by KEC. The Advisory Group would be made of KEC members, project neighbors and other interested individuals and stakeholders.  The Group would meet regularly, provide an outlet for community concerns and advocacy, and provide a forum for a more detailed review of the project.
-KEC and KPW will work together and advocate for a state-of-the-art water quality treatment facility; like other award-winning KPW facilities.
-Give KEC access to the property to independently verify key environmental findings and measurements (e.g., wetland and stream boundaries, buffers, downstream conditions)  
-KPW would strive for the project to serve as a model for responsible environmental development (e.g., minimize tree cutting, maximize storm-water treatment, provide educational/community opportunities, obtain LEED certification
September 2021:
We have three immediate comments that we want to make:
Of the two alternative site designs presented at the August 24 meeting, we urge proceeding with Alternative A. In so doing, we urge extra attention to the protection of this highly sensitive natural environment. Having knowingly chosen such an environmentally sensitive site, it is incumbent on the county to go above and beyond regulations to much higher standards of protection. The parcel contains a fish bearing creek, wetlands, and is part of the headwaters to Gamble Creek. There are also several drinking water wells in close proximity to the site.
We request that you hold county staff and your contracted design firm responsible for getting ahead of the curve on climate change issues and the need for new thinking about building and site design in general. Please ensure that OTAK is keeping on the leading edge of how to plan ahead for the many changes expected in the next few years toward electrification of buildings and vehicles. Ensure that they help lead the county in forward thinking ways. For example, even if electric vehicles have not yet been purchased, ensure that locations are sited for charging stations for electric vehicles. Similarly, are the buildings meeting the highest LEED standards? What else is on the horizon that needs to be considered?
This site must not be simply a relocation of the old site but rather a transformation of thinking and planning, building for a carbon neutral future within a matter of a few years, not decades. Predesign for making the preparation for what is needed to minimize future retrofitting.
We also request information from you about who and how you are pursuing external and special funding to move our county into being climate ready. What proactive work is being done to ensure that the county is ready to pursue available funding as quickly as it becomes available to "green" our county.
In the Fall of 2021, the County decided to proceed with Alternative A (consistent with our request) that retains both onsite wetlands.  KEC will continue to advocate for LEED certification for this facility and other site features that will provide maximum environmental protection.  Below is an image of the site.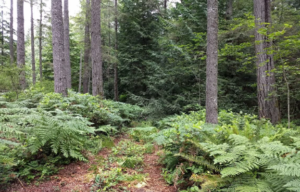 County Variances. KEC has also protested variances to county rules that are endangering wetlands and giving preference to developers over the community's environmental wellbeing. They have also spoken out for protection of county parks that are linked to these variances.
When we review a variance, we specifically address the impacts to the natural world and the site specific characteristics.  However, we are also concerned with the system that sustains the variance approval.  An excerpt from a request to deny a variance that would remove trees along a creek in Indianola:
The following comments are directed primarily to the County Commissioners:
The variance issue we raise above is along the same lines as previous requests to deny variances that we have raised. The bigger issues that lead to even the presence of these requests must be addressed by you as County Commissioners. Specifically:
Kitsap County Code Title 17 is structured around the rights of the property owner.  It does not give adequate standing to the wetlands, creeks, the adjacent forest, the creatures that inhabit and enjoy them, and the benefits that they provide.  Using the Title 17 Criteria to determine variances is limited and flawed.  It does not adequately address 'Nature's Right to Exist' on equal footing as the 'property owner's rights to develop'.
Establishing (or continuing) variances creates a precedence which becomes a 'self-fulfilling' result. This is illustrated is the criteria 'B' in Kitsap County Code Title 17 Variance Criteria.  Approving this variance, will result in even more creek and buffer exceptions, which is counter to State law.  Criteria B should not be included in the Title 17 Code – as it makes impossible any effort to overcome prior incorrect decisions that become precedence.
Hearing Examiners and decisions about variances from Kitsap County Code should not be located within the Department of Community Development. DCD operates largely in the interests of developers. These decisions need to be made by staff who have the welfare of the community at large and the environment as their priority.
Kitsap Growth Management Plan. In Spring, 2021, the Kitsap Regional Coordinating Council (KRCC) updated the framework for growth management in Kitsap County. These policies relate to urban growth, rural land use, development patterns, public facilities, transportation, housing and more. They involve collaboration among city, county, tribal, and federal governments. The KEC steering committee divided this nearly 80+ page draft document into sections and carefully reviewed the language with an eye toward whether the draft took into account relevant climate changes, considered the ecosystem as a whole, and whether it was balancing the rights of nature with business and development interests. KEC was deeply concerned about the document and provided extensive feedback about specific as well as general changes that were needed.
We were very concerned about the lack of responsiveness to our concerns on the part of the KRCC, but our in-depth review built our awareness of the many ways that our environment is being degraded and the need for us to develop a stronger strategy for addressing the deeply systemic problems in how our local government is functioning as it relates to protecting our environment.
North Kitsap Heritage Park Timber Theft
In the Fall of 2021, KEC responded to an observation of timber theft (cutting trees in property owned by the County) by the Arborwood developer.  KEC drafted a letter to local officials. An excerpt is below:
In order to uphold public trust and to ensure that there is a clear distinction between the County and the Developer – we request that the County holds the developer accountable to our existing state laws.  In the case of unauthorized tree removal, it is very clear.  As articulated in RCW 79.02.320, unauthorized removal of timber is punishable with 'treble damages'.  RCW 79.02.320 is described below:
RCW 79.02.320
Removal of timber—Treble damages.
Every person who shall cut or remove, or cause to be cut or removed, any timber growing or being upon any public lands of the state, including a Christmas tree as defined in *RCW 76.48.020, or who shall manufacture the same into logs, bolts, shingles, lumber or other articles of use or commerce, unless expressly authorized so to do by a bill of sale from the state, or by a lease or contract from the state under which he or she holds possession of such lands, or by provisions of law under which the bill of sale, lease or contract was issued, shall be liable to the state for treble the value of the timber or other articles cut, removed, or manufactured, to be recovered in a civil action, and shall forfeit to the state all interest in any article into which the timber is manufactured.
It is our understanding that this theft was perpetrated by the Arborwood developer.  The theft included over 75 trees – including trees up to 44-inches in diameter.  While the developer apparently has returned some, but not all of the trees – it is important to establish a clear boundary with the developer.
We request that 'Treble Damages' be sought from the Developer.  In this case, three times the cost of the timber. 
The County must act in the best interest of the citizens.  The developer and the County must be held to the highest standards, utmost accountability and transparency.  The forest in this area is special and valued by so many people.  This is an unacceptable situation and such disregard for the public trust must not be tolerated.
Kitsap County Development
An issue that is current to KEC's members is development in Kitsap County. The County is expecting thousands of new housing developments in the coming years.  See the Kitsap Sun article below:
Kitsap Sun Article:
https://www.kitsapsun.com/story/news/2021/09/20/housing-market-2021-kitsap-county-residential-developments-apartments-construction/8357665002/?utm_source=kitsapsun-Daily%20Briefing&utm_medium=email&utm_campaign=daily_briefing&utm_term=hero&utm_content=1261KS-E-NLETTER65
KEC would like to ensure that these developments are responsible and thoughtful.  For example, a development should not start with a clear-cutting of every available tree.  See photo from the 500-unit Arborwood Development – taken in the Fall 2021.