Join us for community, good movies and connection through our KEC Presents film series. Bring the family! Enjoy an adventure into the world of frogs!
KEC Annual Meeting and Elections to immediately follow the film.
When: Sunday, October 15th, 3-5 pm
Where: Village Green Community Center, Kingston (26159 Dulay Rd NE)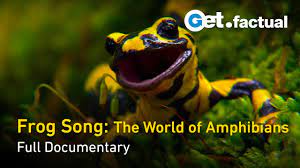 Frog Song: The World of Amphibians
Amphibians are living fossils in a modern world. The species of frogs, toads, and salamanders are more diverse than you can ever imagine. Whether dodging danger, raising their young, or wearing a disguise, amphibians never cease to amaze. Explore the fascinating world of the frogs and their cousins. Produced by: Get.Factual
KEC Annual Meeting & Elections
The KEC members' annual meeting immediately follows the Frog Song movie. We'll be reviewing the past year, looking toward the coming year, and electing members to the Board and Steering Committee. It's a great time to raise issues for the new Board and Steering Committee to consider. Click HERE for more information on all nominees.
2023-10-15 15:00
2023-10-15 17:00
America/Los_Angeles
KEC Presents – Frog Song: The World of Amphibians & KEC Annual Meeting and Elections
Join us for community, good movies and connection through our KEC Presents film series. Bring the family! Enjoy an adventure into the world of frogs! KEC Annual Meeting and Elections to immediately follow the film. When: Sunday, October 15th, 3-5 pm Where: Village Green Community Center, Kingston (26159 Dulay Rd NE) Frog Song: The World […]
webmaster@hawkfeather.com